Request Hi-Resolution Image | The American Library Association Archives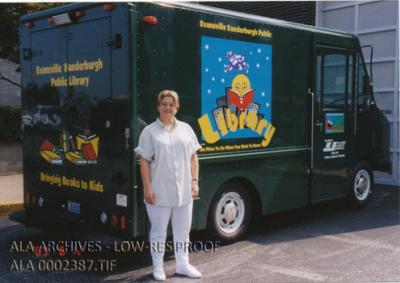 image (JPEG Image, 70.85 KB)
Download Original File

Title:
"Bringing Books to Kids"
Date:
1998
Description:
Youth Assistant and Bookmobile Librarian Lola Snyder and the Evansville (Indiana) Vanderburgh Public Library's bookmobile, which reaches out to daycare centers and incudes puppet shows and story hours.
Published in American Libraries, October 1998, p. 22.
Found in RS 13/6/16, Box 19, Folder: October 1998
Phys. Desc:
TIFF
ID:
ALA0002387
Repository:
The American Library Association Archives
Found in:
Issue Photographs, 1980-2006

Subjects:
Publisher:
American Libraries
Rights:
The holder of copyright for this image is unknown. Please contact us if you would like to purchase a high-resolution copy of the image or if you can help us identify the copyright holder.