Request Hi-Resolution Image | The American Library Association Archives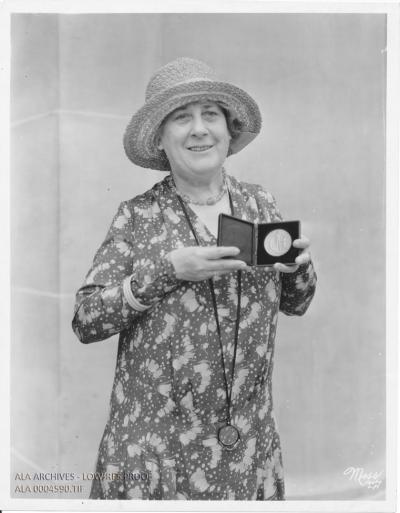 ALA0004590.jpg (JPEG Image, 128.1 KB)
Download Original File

Title:
Effie Power with Newbery Medal
Date:
1930
Description:
Photograph of Effie Power, chair of Section for Library Work with Children, holding the Newbery medal for the 1930 ALA Annual Conference.
Caption on the back reads: Effie Power with Newbery medal, Los Angeles, 1930
Found in RS 18/1/57, Box 22, Newbery Medal-Winners, 1930-62, Folder 3
Phys. Desc:
8x10 inches, black and white photographic print. TIFF digital surrogate.
ID:
ALA0004590
Repository:
The American Library Association Archives
Found in:
Library Photographic Vertical File, 1892-1985

Creators:
Subjects:
Rights:
The holder of copyright for this image is unknown. Please contact us if you would like to purchase a high-resolution copy of the image or if you can help us identify the copyright holder.