Request Hi-Resolution Image | The American Library Association Archives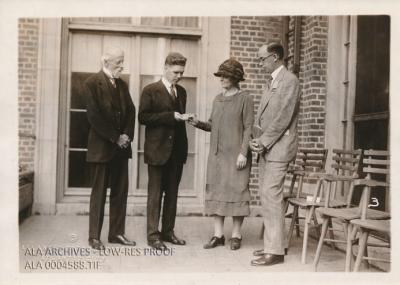 image (JPEG Image, 89.19 KB)

Download of the full file is not publicly available. Contact the archives for information about accessing this item.

Title:
1926 Newbery Award (2)
Date:
1926
Description:
Group photograph at the 1926 ALA Annual Conference in Atlantic City, including Fenton J. Newbery, a direct descendent of John Newbery, and author Arthur Bowie Chrisman receiving his Newbery Medal for his book, Shen of the Sea: A Book for Children.
Left to right: Fenton J. Newbery, Arthur Bowie Chrisman, Nina C. Brotherton (chair of the Children's Librarians Section), and Fredric Melcher.
Found in RS 18/1/57, Box 22, Newbery Medal-Winners, 1930-62, Folder 2
Phys. Desc:
7x5 inches, sepia photographic print. TIFF digital format.
ID:
ALA0004588
Repository:
The American Library Association Archives
Found in:
Library Photographic Vertical File, 1892-1985

Creators:
Subjects:
Rights:
Copyright belongs to Atlantic Foto Service. Copyright of this image is NOT owned by the American Library Association. Please contact us for more information about this image or if you would like to request a copy for personal use.