Request Hi-Resolution Image | The American Library Association Archives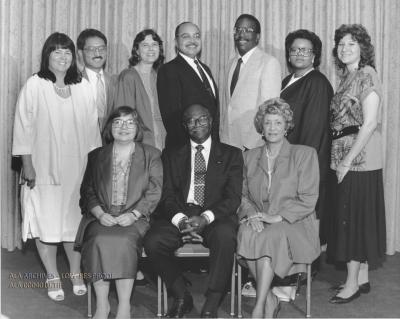 image (JPEG Image, 164.41 KB)

Download of the full file is not publicly available. Contact the archives for information about accessing this item.

Title:
Group at 1989 Coretta Scott King Award
Date:
1989
Description:
Unidentified group, possibily the award committee, at the Coretta Scott King Awards at the 1989 Annual Conference.
Found in RS 56/43/13, Box 1, Folder: Photograhs, 1989
Phys. Desc:
TIFF; Original 8x10
ID:
ALA0004019
Repository:
The American Library Association Archives
Found in:
Photograph File, 1989-91, 1993-94, 1997, 2000, 2002, 2004, 2007-08

Creators:
Subjects:
Rights:
Photograph by Oscar & Associates, Inc. Copyright managed by the American Library Association. Please contact us if you would like a high-resolution copy of the image.