Teaching Children Karate in the Library | The American Library Association Archives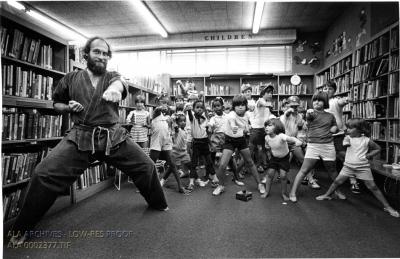 image (JPEG Image, 184.58 KB)
Download Original File

Request hi-res copy
Title:
Teaching Children Karate in the Library
Date:
1984
Description:
Bill Stockey, director of the Hilliard branch of the Chesapeake Public Library in Virginia, teaches youngsters the basic horse stance and the blow that goes with it during a South Norfolk branch program.
Published in American Libraries, November 1984, pg. 750.
Found in RS: 13/6/17, Box 20, Folder: Youthreach January-December 1984
Phys. Desc:
TIFF
ID:
ALA0002377
Repository:
The American Library Association Archives
Found in:
Photographic Subject File, 1950-2006, 2009

Subjects:
Publisher:
American Libraries
Contributor:
Photograph by Richard L. Dunston
Rights:
The holder of copyright for this image is unknown. Please contact us if you would like to purchase a high-resolution copy of the image or if you can help us identify the copyright holder.