Chained Library, Hereford Cathedral | The American Library Association Archives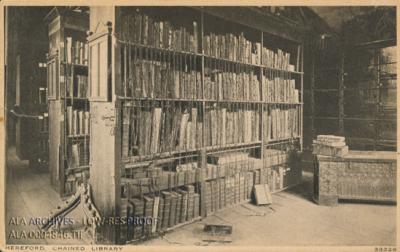 image (JPEG Image, 77.33 KB)
Download Original File

Request hi-res copy
Title:
Chained Library, Hereford Cathedral
Date:
1925
Description:
Postcard of the Chained Library at the Hereford Cathedral, England.
Found in RS 97/1/65, Box 11
Phys. Desc:
Black and white postcard, 5.5x3.5 inches. Tiff digital surrogate.
ID:
ALA0004846
Repository:
The American Library Association Archives
Found in:
Celene Bishop Library Postcard Collection, 1900-80

Subjects:
Publisher:
Photochrom Co. Ltd., London and Tunbridge Wells
Rights:
The holder of copyright for this image is unknown. Please contact us if you would like to purchase a high-resolution copy of the image or if you can help us identify the copyright holder.