Marguerite Henry and Misty the Pony | The American Library Association Archives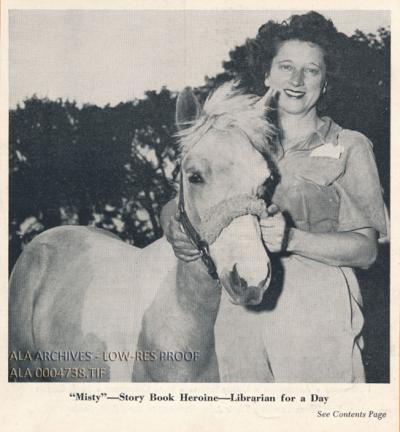 image (JPEG Image, 98.11 KB)
Download Original File

Request hi-res copy
Title:
Marguerite Henry and Misty the Pony
Date:
1949
Description:
Photograph of author Marguerite Henry with her pony, Misty. The photograph was pubished on the cover of the November 1949 ALA Bulletin, volume 43, number 10.
Caption below the photo reads: "Misty" - Story Book Heroine - Librarian for a Day
Caption on the Contents page reads: "Misty," a taffy-colored pony belonging to Mrs. Marguerite Henry, will get her professional "come-uppance" at the Midwest Regional A.L.A. Conference in Grand Rapids, Michigan. Mrs. Henry's publishers, Rand McNally & Co., will have "Misty" on exhibit at their booth on Friday, November 11.
Found in RS 24/42/10, Box 1, Folder: 1949 - Marguerite Henry (Newbery) and Berta and Elmer Hader (Caldecott)
Phys. Desc:
Black and white photograph printed on magazine paper, 5.5x6 inches. Tiff digital surrogate.
ID:
ALA0004738
Repository:
The American Library Association Archives
Found in:
Press File, 1923-76, 1978, 1983-1994, 2011

Subjects:
Rights:
The holder of copyright for this image is unknown. Please contact us if you would like to purchase a high-resolution copy of the image or if you can help us identify the copyright holder.