ALA Council at 100th Anniversary Conference | The American Library Association Archives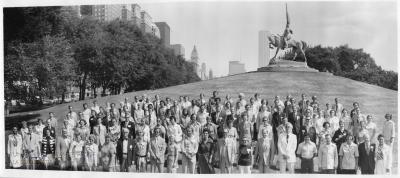 image (JPEG Image, 464.66 KB)
Download Original File

Request hi-res copy
Title:
ALA Council at 100th Anniversary Conference
Date:
August 18, 1976
Description:
Photographic print showing the members of the ALA Council from the Centenary Conference standing in Grant Park in Chicago. A statue of General John Logan is visible in the right background.
Found in RS 18/1/5, Box 4 (oversize storage)
Phys. Desc:
Black and white panaromic photographic print, 22 x 10 inches. Tiff digital surrogate.
ID:
ALA0000219
Repository:
The American Library Association Archives
Found in:
Subject File, 1925-2008

Creators:
Subjects:
Rights:
Copyright to this image is managed by the American Library Association. Please contact us if you would like to purchase a high-resolution copy of the image.