Microfiche Readers at Embry-Riddle Aeronautical University | The American Library Association Archives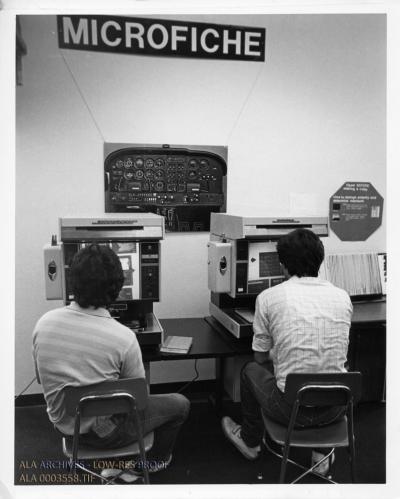 image (JPEG Image, 141.31 KB)
Download Original File

Request hi-res copy
Title:
Microfiche Readers at Embry-Riddle Aeronautical University
Date:
circa 1980
Description:
Students Embry-Riddle Aeronautical University using microfiche readers.
Caption reads: "Students at Embry-Riddle Aeronautical University, a leading aviation university, view and print copies of various aeronautical data - including training manuals, maintenance information, etc. - on Minolta micrographic reader-printers.
"Because of space limitations and the difficulty in updating reams of paper manuals, Embry-Riddle records its sources material an [sic] microfiche and students use the reader-printers - equipped with a coin-operated attachment for printing copies - to view and copy study material."
Found in 13/6/17, Box 12, Folder: Library Life, 1979-1983 [Folder 1 of 2]
Phys. Desc:
TIFF; Original 8x10 inches
ID:
ALA0003558
Repository:
The American Library Association Archives
Found in:
Photographic Subject File, 1950-2006, 2009

Subjects:
Rights:
The holder of copyright for this image is unknown. Please contact us if you would like to purchase a high-resolution copy of the image or if you can help us identify the copyright holder.