Post-Conference Trip to the Boston Public Library | The American Library Association Archives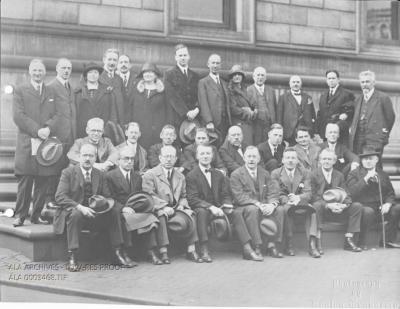 image (JPEG Image, 136.78 KB)
Download Original File

Request hi-res copy
Title:
Post-Conference Trip to the Boston Public Library
Date:
October 13, 1926
Description:
Photograph of guests at the Boston Public Library during at post ALA Annual Conference trip.
Top row: Belden, Peplow, Mme. Hafkin Hamburg, Savage, Fago, Hitchler, ter Meulen, Gorrie, Mlle. Neukircher, Hill, Gourley, Gregorie, Morel
Middle Row: Milam, Chase, Matzumoto, Drachmann, Hilsenbeck, Andersen, Thyregod, Bertling
Front row: Kruss, Bulnes, Bovet, Gaspar, Sharp, Jurgens, Powell, Collijn.
Found in RS 99/1/14, Box 1, Folder: Annual Conferences - Atlantic City, NJ, 1926
Phys. Desc:
TIFF; Original 7x9 inches
ID:
ALA0003468
Repository:
The American Library Association Archives
Found in:
Conference Photographs, 1876-1960, 1986, 1998-2001

Subjects:
Contributor:
Photography by Boston Transcript
Rights:
The holder of copyright for this image is unknown. Please contact us if you would like to purchase a high-resolution copy of the image or if you can help us identify the copyright holder.