ACRL Pie Throw | The American Library Association Archives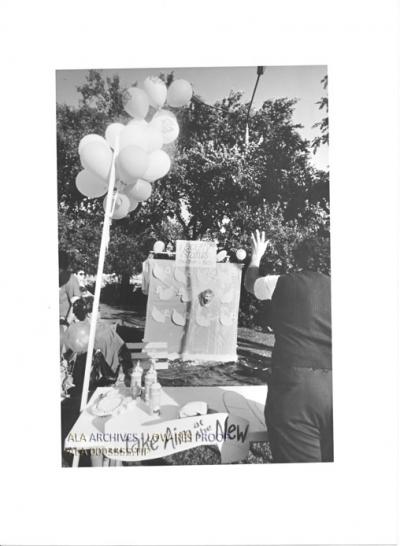 image (JPEG Image, 80.69 KB)
Download Original File

Request hi-res copy
Title:
ACRL Pie Throw
Date:
1976
Description:
Former ACRL president, Norm Tanis, at a pie throwing booth for ACRL's booth at the 1976 Annual Conference.
On the back reads: "ACRL takes itself and its issues seriously, but once every 100 years it's entitled to a little fun. Above, ALA Centennial Conference goers take cream-pie shots at 1973-74 ACRL President Norm Tanis at ACRL 'Fair-in-the-Park' booth."
Found in RS 13/6/17, Box 1, Folder: Annual Conference, 1976
Phys. Desc:
TIFF; Original: 8x10 inches
ID:
ALA0003355
Repository:
The American Library Association Archives
Found in:
Photographic Subject File, 1950-2006, 2009

Creators:
Subjects:
Publisher:
American Libraries
Rights:
Copyright of this image is held by the American Library Association. Please contact us if you would like to purchase a high-resolution copy of the image.