Public Library at Summit, NJ | The American Library Association Archives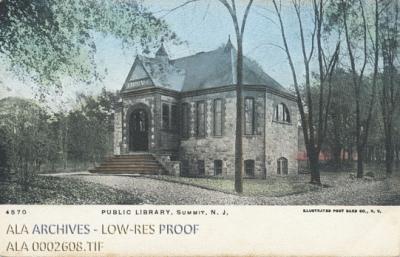 image (JPEG Image, 93.74 KB)
Download Original File

Request hi-res copy
Title:
Public Library at Summit, NJ
Date:
circa 1905
Description:
Postcard of the Public Library in Summit, New Jersey.
Found in RS 97/1/72, Box 8
Phys. Desc:
TIFF
Original: 5.5x3.5 inches
ID:
ALA0002608
Repository:
The American Library Association Archives
Found in:
Daniel W. Lester Library Postcard Collection, c. 1900-c. 2005

Subjects:
Publisher:
Post Card Co.
Rights:
This image is in the public domain. Please contact us if you would like to purchase a high-resolution copy of the image.